WoowBot is a Plug n' play WooCommerce Shopping ChatBot WordPress plugin that can help Increase your store Sales perceptibly. Shoppers can converse fluidly with the ChatBot – thanks to its Integration with Google's Natural Language Processing (AI and NLP) through Dialogflow, Search and Add products to the cart directly from the chat interface and get Support.
You can make this ChatBot to work with any language easily and quickly. Facebook Messenger Live Chat is integrated if you want to provide a Live chat channel for support in addition to the chatbot. Call Me Back & Customer Feedback modules are also available. You can also schedule ChatBot to run only when you are not available for Live chat with other service – outside of your normal office hours.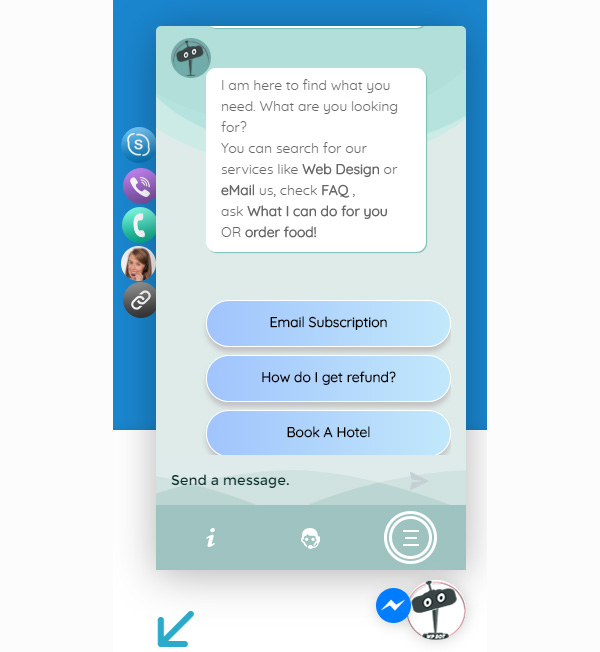 Not using WooCommerce?? Try our ChatBot for WordPress – WPBot!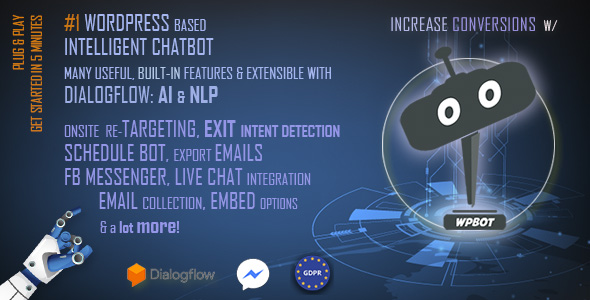 Do you need a Complete Customer Help Portal? Try our KnowledgeBase WordPress Plugin with ChatBot!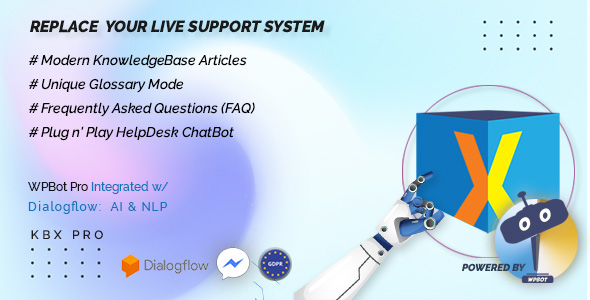 The Onsite Retargeting helps your Conversion rate optimization by showing your special offers and coupons on Exit Intent, time interval or page scroll down inside the chatbot window. Get rid of those other Exit Intent popups with a chatbot that talks directly with the shopper. Reduce Abandoned Cart by showing timely messages with the Chat Bot! Track Customer Conversions with statistics and reporting to find out if shoppers are abandoning carts without completing orders. Increase your sales!
Shoppers can converse with the Intelligent Chat Bot, view and Add products to cart directly from the chat interface or send you valuable customer feedback and support request. WoowBot also provides FAQ Support, eMail user query, Quick Cart, Order Status, Recently Viewed Products, ShortCode for landing page, Integrated Facebook Messenger Live chat, Onsite Customer Retargeting, Exit Intent pop up with ChatBot, and more features like checkout reminders to cut down on shopper cart abandonment!
What is WoowBot ChatBot?
WoowBot is the Next Generation Conversational Commerce for WooCommerce Platform. For the basic usage, this stand-alone chat bot does not require any other 3rd party service and is ready to serve your shoppers with bare minimum configurations and set up. However, you can integrate the bot with Dialog Flow for Artificial Intelligence, Machine Learning and NLP. You can also Integrate with Facebook Messenger that gives you the option to include a Live Chat feature with real humans along with more quick button options like WhatsApp, Viber, Skype, Phone Call and Web Link!
Conversational commerce is the future of eCommerce. Enter WoowBot: a new way of customer interaction that allows brands to connect with their customers on a personal level while creating a more natural interaction that mimics the physical world. 24/7/365 WoowBot can provide Intelligent Live Chat service for your shoppers and provide product search services, order status, and support. Increase customer satisfaction, reduce costs to scale and improve the ability to engage customers. You can even use WoowBot shortcode to create single page shopping experience!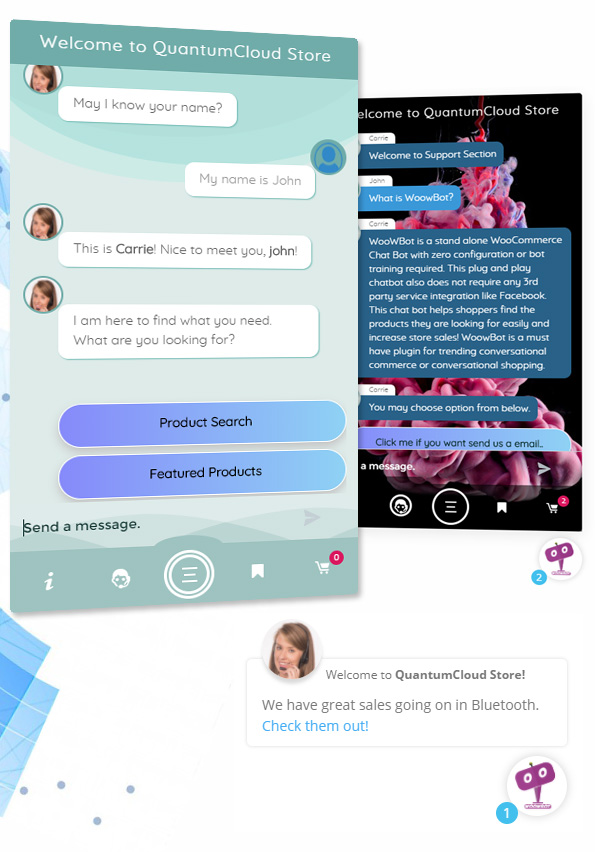 How Can the ChatBot Increase Your Sales?
Besides intelligent chat, search and help features WoowBot can increase your store sales up to 25% with its smart retargeting messages and reducing abandoned carts. You can also create special offer messages for time interval or page scroll down inside the chatbot window.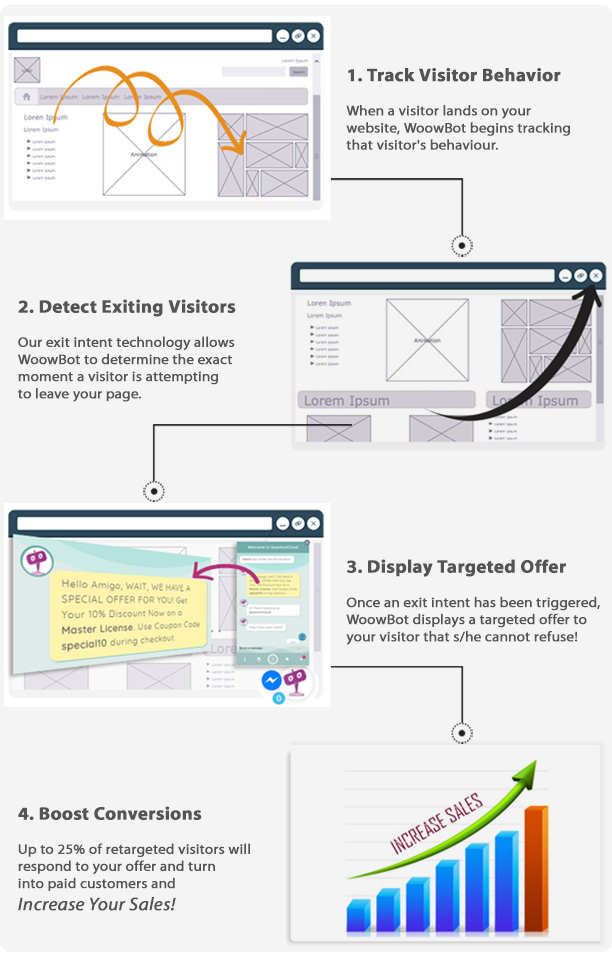 ChatBot for WooCommerce – Retargeting, Exit Intent, Abandoned Cart, Facebook Live Chat – WoowBot
141
People watching this product now!
Very cheap price & Original product !
You'll Receive Untouched And Unmodified Files
100% Clean Files & Free From Virus
Unlimited Domain Usage
Product Version : 12.3.9
Product Last Updated : 23 March 2021
License : GPL
Product
Update Request
You can request for an update or add an Item 
Only logged in customers who have purchased this product may leave a review.